The amniotic membrane, or amnion, comprises the innermost layer of the placenta. Amniotic membrane transplantation (AMT) has been used in many different types of reconstructive surgery1. Davis in 1910 reported the use of fetal membranes as a skin substitute. AMT became important because of its ability to diminish the occurrence of adhesions and scarring, its ability to enhance wound healing and epithelialisation, and its antimicrobial potential. In particular, the amniotic membrane expresses incomplete HLA-A, B, C, and DR antigens 2, which may account for the fact that immunological rejection after transplantation has not been observed.

In 1940, De Roth used a fresh fetal membrane (ie both amnion and chorion) as a graft for conjunctival surface reconstruction with limited success 3. Sorsby et al 4,5 in 1946 and 1947 reported the successful use of amniotic membrane as a patch graft in the treatment of acute ocular burns. Interest in AMT then waned and it was not until Kim and Tseng 6 successfully reintroduced the concept, that interest in AMT was revived.

Histology and Preparation

The amniotic membrane consists of a single layer of cuboidal epithelial cells, a thick basement membrane and an avascular stromal matrix, loosely attached to the chorion.

One placenta provides amniotic membrane for ophthalmic use - sufficient for 20-30 transplants. In addition, amniotic membrane is easily stored (so that there is an abundant supply). In the United Kingdom in 1997, a human amniotic membrane bank, based at The North London Tissue Bank, was established for provision of amniotic membrane in ophthalmic surgery. This was followed in 1999 by the formation of AMT users group (AMTUG) to establish clinical and research collaboration and guidelines for fire procurement, processing and distribution of amniotic membrane. East Grinstead and Nottingham also established (1996) amniotic membrane banks for local use.

Amniotic membrane is harvested from consenting seronegative (hepatitis B and C virus, syphilis and human immunodeficiencv virus) maternal donors during elective caesarian section. Under sterile conditions, the placental membrane is washed in a balanced salt solution (BSS) to remove clots and debris. The membrane is then bathed in a cocktail of antimicrobial medium for 24 hours, followed by a second wash in BSS. Subsequently, the amnion is separated from the chorion and divided into pieces measuring approximately 2cm2 and mounted, stromal side down, onto nitrocellulose cards. The membrane is then placed in a plastic container, and stored in 50% glycerol at -80°C for up to 2 years. Serological tests are repeated on the maternal donor six months after delivery before its release for clinical use.

Observed Clinical Effects and Mechanisms of Action

Amniotic membrane has been found to:
Facilitate epithelialization
Maintain a normal epithelial phenotype
Reduce inflammation
Reduce scarring
Reduce the adhesion of tissues
Reduce vascularisation
A number of cytokines, growth factors and protease inhibitors, such as IL-4, 6 and IO; EGF, FGF, TGF, HGF, and 2-macrobulin, have been found in cryopreserved amniotic membranes. The presence, concentration and action of these substances may account for most of the observed clinical effects and its mechanisms (7) of action such as:
Exclusion of inflammatory cells with anti-protease activities
Suppression of TGF-signalling system and myofibroblast differentiation of normal fibroblasts
Prolongation of the life span and clonogenicity of epithelial progenitor cells
Promotion of non-goblet cells epithelial differentiation
Promotion of goblet cell differentiation when combined with conjunctival fibroblast
Reported Use In Ophthalmology
Amniotic membrane can be used in a number of indications, either as a 'substrate' to replace the damaged ocular tissue or as a 'patch' (biological dressing), or a combination of both as summarised below:
Corneal diseases:
Chemical injury
Limbal stem cell deficiency (partial or total): combined with stem cell graft
Persistent epithelial defects
Corneal ulceration
Symptomatic bullous keratopathy
Conjunctival diseases:
Stevens-Johnson Syndrome
Conjunctival cicatrisation/scar
Symblepharon lysis
Conjunctivochalasis
Conjunctival surface reconstruction
Pterygium surgery
Trabeculectomy: bleb leakage or revision
Surgical Techniques
At the time of surgery, the container with amniotic membrane is thawed at room temperature just before its use, and the membrane is rinsed three times in BSS. The membrane is then gently separated from the nitrocellulose paper with blunt forceps.
AMT is not performed in a universal manner. There have been contradictory reports concerning the right way to place the amnion on the ocular surface. The membrane can be sutured to the ocular surface with its epithelium-basement membrane side up and the stromal side in contact with the eye (preferred technique) or stromal side up, away from the eye. The stromal side of the membrane is sticky, similar to vitreous and the epithelial basement membrane side is shiny and non-sticky.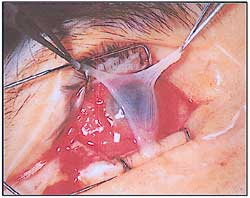 The amniotic membrane is then gently spread on to the ocular surface and trimmed to the appropriate shape and size (See photo). In cases of corneal pathologies (eg persistent epithelial defect) the membrane is secured in place using 10-0 nylon interrupted sutures to the cornea. There is a consensus that in corneal/limbal diseases (eg chemical injury) a membrane much larger than the affected area is needed. In these cases, a combination of intercepted 10-0 nylon sutures to the conjunctiva/episclera and a 11-0 nylon continuous suture (ie purse string bedding suture just outside the limbus) is usually required, although 10-0 Vicryl suture can also be used. In conjunctival surgery the amnion is used as a substrate to cover the defect after removal of the affected tissue. In those circumstances where reconstruction of the conjunctival fornices is needed, a spacer (eg retinal band) is used to maintain the fornices until epithelialization has occurred. Amniotic membrane becomes indistinguishable from conjunctival tissue once covered by the epithelium.
A large therapeutic contact lens is routinely used, at the end of the operation, to protect and keep the amniotic membrane in place and also for comfort. Occasionally, a tarsorrhaphy may also offer additional protection. The sutures and contact lens are often removed after 2 to 4 weeks. Recommended post-operative topical treatment consists of preservative free antibiotic and corticosteroid drops.
In addition to the above surgical techniques, there has been an increasing interest in the experimental transplantation of tissue-cultured limbal stem cells and amniotic membrane onto the cornea for treatment of ocular surface pathologies. Studies in animals and human beings have provided experimental evidence to support this theoretical approach. 9,10
Amniotic membrane, when used as a biological dressing (eg chemical injury), usually disintegrates within 2 to 4 weeks after the operation. The membrane will however, become incorporated in the ocular tissue when used as a substrate replacement (eg corneal ulceration, pterygium surgery, symblepharon lysis and conjunctival surface reconstruction).
Post-Operative Complications
AMT has been successfully used in ophthalmic surgery, but not without complications. Post-operative infection, although rare, is one of the risks associated with this procedure. The amnion cm also become loose or dislocated as a result of loose/broken sutures. Haemorrhage under the membrane and early disintegration of the membrane have also been observed. Lack of its beneficial effect may also occur possibly related to problems with processing.
Summary
Amniotic membrane has been successfully used in a number of procedures for restoration of the ocular surface. As its mechanism of action becomes more fully understood, its application will become more refined, with more appropriate usage of this valuable technique. The full potential of this technique is not known, thus randomised prospective studies are needed.
Francisco C. Figueiredo, on behalf of AMTUG
Royal Victoria Infirmary Newcastle upon Tyne
References
1.Twlford JD, Trelford-Sauder M. The amnion in surgery, past and present. Am J Obstet Gynecol 1979;134:833-845.
2.Akle CA, Adinolfi M, Welsh KI, Leibowitz S, McColl 1. Immunogenicity of human amniotic epithelial cell after transplantation into volunteers, Lancet 1981;2:1003-5.
3.de Roth A. Plastic repair of conjunctival defects with fetal membrane. Arch Ophthalmol 1940,23:522-5.
4.Sorsby A, Symons HM. Amniotic membrane grafts in caustic burns of the eye. Br J Ophthalmol 1946;30:337-45.
5.Sorsby A, Haythorne J, Reed H. Further experience with amniotic membrane grafts in caustic burns of the eye. Br J Ophthalmol 1947,31:409-18.
6.Kim JCI, Tseng SCG. Transplantation of preserved human amniotic membrane for surface reconstruction in severely damaged rabbit corneas. Cornea 1995,14:473-84.
7.Tseng SCG, Tsubota K. Amniotic Membrane Transplantation for Ocular Surface Reconstruction. In: Ocular Surface Diseases: Medical and Surgical Management Ed. Holland EJ and Mannis MJ, Sringer, in press, 2001.
8.Meller D, Pires RTF, Mack RJS, Figueiredo FC et al, Amniotic membrane transplantation for acute chemical or thermal burns. Ophthalmology 2000, 107:980 90.
9.Koizumi N. Inatomi, Quantock AJ et al. Amniotic membrane as a substrate for cultivating limbal epithelial cells for autologous transplantation in rabbits, Cornea 2000; 19:65 71.
10.Tsai RJF, Li L-M, Chen I-K. Reconstruction of damaged corneas by transplantation of autologous limbal epithelial cells. N Eng J Med 2000;343:86 93. Br J Ophthalmol 1947;31:409-18.